Caspian Oriental Rugs
"It's
 with a heavy heart, 
that I
 have made the decision to close the showroom. My biggest Thank 
Y
ou and appreciation goes out to the 
Chicago community and the 
thousands of customers 
we have had the pleasure to serve by delivering the highest quality rugs and service to their homes and offices. Without their 
support,
 we could not have enjoyed half a century of being in business.
 But now it's time to say "Good-Bye
"
. I urge my customers and fellow Chicagoans to come and take advantage of this
opportunity to 
receive a gift of 
remarkable savings
from 
any
purchase they make during the 
Caspian Oriental Rugs
 Going Out of Business Sale."
Jamshis Soomekh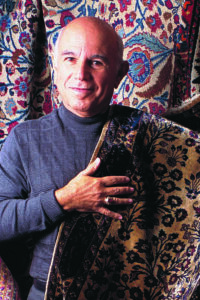 Established in 1971 by Jamshid (Jim) Soomekh has grown into one of the largest oriental rug stores in America. With a store size of 6,000 square feet and one of the largest rug inventories, it is truly a Chicago landmark. Caspian Rugs has grown from a small establishment into the premier store for all origins of hand-woven rugs. Besides the latest modern and transitional rugs Jim has grown his collection into a museum treasure of masterpiece antiques, arguably one of the largest in Chicago, along with over 100 oversized rugs.
For the past 50 years, it has been my absolute pleasure to have been a source of fine rugs for you. Now it is time for me to retire and focus on my family. I am offering our entire Multi-Million fine rug inventory, including rugs from my private collection, at significantly reduced prices. These savings have never been offered in our history.
Our History
Testimonials
Caspian has very fine rugs and an interesting method of displaying them so you can pick the ones you like without having to wait to get to the bottom of the pile. The guys are extremely friendly, fair, easy going and helpful. Great experience and wound up with an amazing rug.
"Addicted". I purchased a runner and wow it is such a statement piece. Definitely going back for more. I couldn't be more impressed with how it sets off my white halls. High quality, somewhat pricey but worth every dime. The guys were very patient and welcoming. The rugs are situated where you don't have to sort them out, I mean they are stacked but not to make you miss what you are looking for. Whoever procures the rugs, they have a great eye.
Kamil has been an absolute dream. My beautiful oriental rug got flooded and needed a deep cleaning. Kamil helped me decide if it'd be worth it to keep and then gave me a very generous price compared to the other places that I called. We are remodeling, and he has been so understanding about delaying the pick up date. Great customer service. Great work. A very trustworthy place.